1991 Kyoto Romanée Conti
Romanee Conti 1940
Romanee Conti 1942
Romanee Conti 1954
Romanee Conti 1959
Romanee Conti 1962
Romanee Conti 1964
Romanee Conti 1966
Romanee Conti 1979
Romanee Conti 1981
Romanee Conti 1986
A tasting was performed November 30th, 1991, at the legendary guesthouse "Ichi Riki" in Kyoto.
This was the first Romanée Conti tasting ever performed in Japan.
A total of 10 vintages was tasted, from 1940 to 1986. The creation of the accompanying dinner was prepared by the five most prominent chefs of Kyotoeach. Each chef created one dish specially composed to be the perfect marriage to each wine tasted.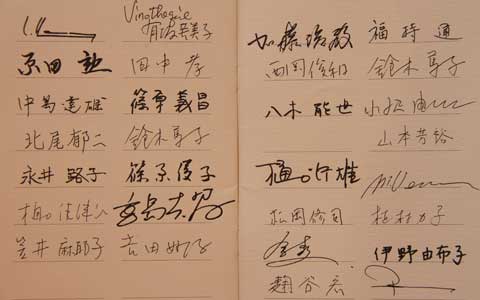 Among the tasters were the French Ambassador, three of the most prominent sommeliers at the time, notably Shinya Tazaki, who in 1995 won the title of the world's best sommelier Meilleur Sommelier du Monde; Masaharu Oka of Royal Hotel; Tokimaru Takahashi, ANA Hotel Tokyo.
The two eminence grise behind the tasting were Takahaaki Shimoya and Hiroshi Kojitani.
Present were also many prominent personalities in the Japanese society, laywers, artists, musicians, doctors, businessmen, TV personalities and filmstars.