1989 Paris Romanée Conti Tasting
A group of 15 tasters gathered to taste 15 vintages of Romanée Conti 1929  to 1985, at the prestigeous five star Hotel Plaza Athenee in Paris.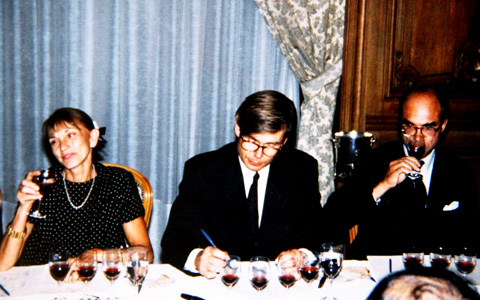 Present at the tasting were the owners of La Romanée Conti, Mr. Aubert de Villaine and Mrs. Lalou Bize-Leroy, accompanied by an international group of distinguished tasters from France, US, Japan and Sweden, a group of journalists, businessmen, doctors and authors. Among the tasters were Mr. Takahaaki Shimoya, distinguished sommelier, Mr. Yoshikazu Ozawa, advisor and translator of great wine companies in Tokyo, Richard Olney, author of the book on Romanée Conti, Ms. Fumiko Arrissaka, founder of the trendsetting magazine Vinotheque.
The vintages tasted include:
Romanee Conti 1929
Romanee Conti 1934
Romanee Conti 1935
Romanee Conti 1937
Romanee Conti 1953
Romanee Conti 1959
Romanee Conti 1963
Romanee Conti 1964
Romanee Conti 1975
Romanee Conti 1978
Romanee Conti 1979
Romanee Conti 1982
Romanee Conti 1983
Romanee Conti 1984
Romanee Conti 1985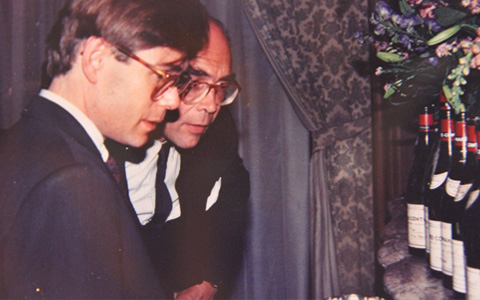 The vintages that distinguished themselves particularly were 1959. Great concentration, yet subtle and with an incredible length. 1953, remarkably well preserved for its age, with a scent of an almost magical mixture of blackberries and cedar wood. And finally, 1979, which still was very young, full of fruit and concentration, but the class and terroir was starting to come through. This particular wine displayed an almost perfect balance and finish in a very beautiful, yet subtle way.